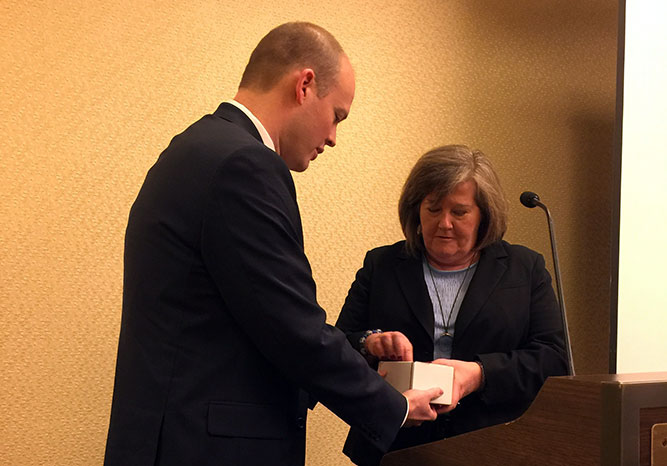 Interlink photo/Bill Garber
Postmaster General Megan Brennan is presented an NNA glass paperweight as a token of appreciation by Interlink President Brad Hill, who introduced her, on behalf of the National Newspaper Association following her presentation at the NNA We Believe conference.
Postmaster General says USPS
committed to improved tracking
Megan Brennan, who became the U.S. Postal Service's first female postmaster general this year, told publishers attending NNA's We Believe conference March 19 in Washington, D.C., that the key to delivery consistency is 'visibility.'
She said the Postal Service is committed to improve its tracking ability to make sure newspapers in the system 'have no place to run and no place to hide' while in the postal network.
Interlink President Brad Hill, an NNA representative on the Mailers' Technical Advisory Committee (MTAC), introduced Brennan at the opening session.
Interlink founder Bill Garber, who also was attending the conference, said that Brennan told attendees that she has asked Hill to work with her team to help recommend changes to  the Postal  system and to presort systems to make it possible to track bundles and by inference individual newspapers in real time as they move through the system.
Those who were part of that meeting after the opening session were: Hill; Steve Dearing, manager, Mailing Systems; Robert Cintron, VP, Enterprise Analytics; Keith Rathbun, publisher, The Budget (Ohio); past NNA President Merle Baranczyk of Arkansas Valley Publishing (CO); NNA postal expert Max Heath;  NNA CEO Tonda Rush; and past NNA President Reed Anfinson of Swift County Monitor-News (MN). The meeting was organized by Rush.
Full Service Intelligent Mail already lets the Postal Service track newspapers in properly barcoded containers, Garber noted.  This already keeps newspaper containers so marked from being put on the wrong truck by accident in a hurry to clear the plant at the end of a shift if there was a bit too much mail to process, he said.
Industry represents dismissed after the opening session to visit with congressional representatives on the Hill to discuss postal and other newspaper industry-related topics.