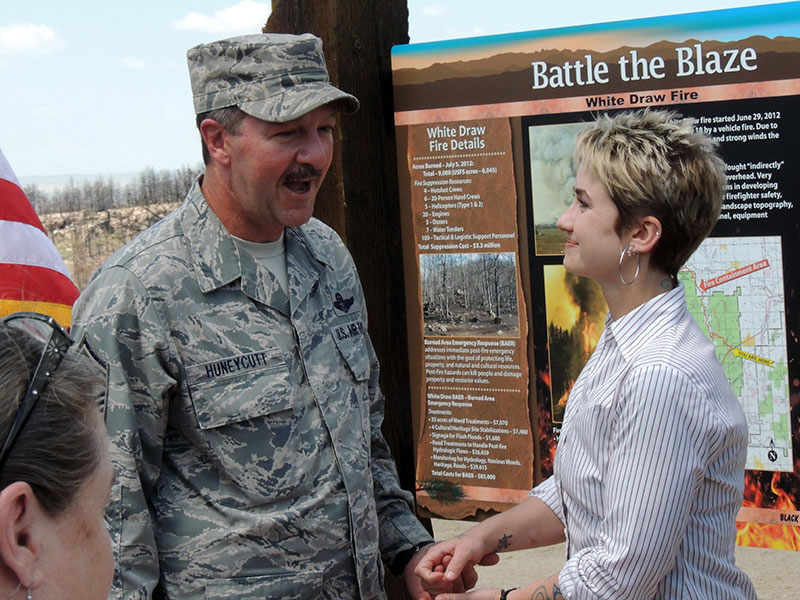 Chief MSgt. Andy Huneycutt, C-130 crash survivor, meets Becky Sotherland, Fall River County 911 dispatcher, for the first time. It was Sotherland who answered Huneycutt's 911 cell phone call last July 1 when he found himself outside the aircraft after it crashed. "She saved our lives," Huneycutt said. (CCC Photo/Charley Najacht)
'Life-long bond' is formed
By Charley Najacht, Publisher
Custer County Chronicle
Reprinted with Permission
Chief MSgt. Andy Huneycutt of the N.C. Air National Guard's 145th Airlift Wing in Charlotte doesn't remember much after the C-130 Hercules he was flying in crashed last July 1.
Huneycutt, of Lancaster, S.C., and MSgt. Josh Marlowe, of Belmont N.C., were in the rear of the aircraft operating a U.S. Forest Service-owned Modular Airborne Fire Fighting System (MAFFS), while fighting a 9,000-acre wildfire in the Southern Black Hills of South Dakota. (See related story below).
The two were the only surviving members of the six-man crew from the N.C. Air National Guard 145th Airlift Wing, Charlotte.
The huge four-engine aircraft reportedly was caught in a severe downdraft on its second run of dropping fire retardant chemical about 6:30 p.m. that day.
"I remember being in the aircraft and then out of the aircraft," Huneycutt said. He doesn't remember what happened in between or how he got out of the aircraft.
Luckily, he did still have his cell phone with him and immediately dialed 911.
Becky Sotherland, Fall River County 911 dispatcher in Hot Springs, about 20 miles away from the crash site, was on the receiving end of that call.
"He said he was in a plane that crashed. At first I thought it was a small plane," Sotherland said.
"Then he said it was a C-130. I knew they were flying in the area fighting the fire," she said.
"When a 911 call comes in, we can pinpoint where it is coming from. I lost him on the phone a couple of times, but finally did locate him," she said. 
A helicopter was dispatched to the area and managed to find a spot to sit down near the crash site and pick up both Huneycutt and Marlowe.
Both were flown to Rapid City Regional Hospital. Huneycutt was flown on to a burn hospital in Chapel Hill, N.C., where he spent the next several weeks in treatment.
Huneycutt met Sotherland for the first time at an Interpretive Site Dedication Ceremony held last Monday, July 1, about two miles to the east of the crash site along Highway 18, six miles north of Edgemont.
"We absolutely have a life-long bond," said Huneycutt.
"She's awesome. She saved our lives."
Fitting tribute for crash victims
Jason Ferguson, General Manager
Reprinted with Permission
From June 2013 issue
Next Monday, July 1, a commemorative ceremony will be held at a newly-constructed pull-out area along Highway 18 a little over 16 miles west of Hot Springs or about six miles north of Edgemont. The site and its two signs will honor the six-member North Carolina Air National Guard crew whose C-130 went down last July 1 while fighting the White Draw Fire. Four of the crew perished in the crash and two were injured severely, but survived in the rear of the aircraft.
The plane was based at Charlotte, N.C., and was carrying a U.S. Forest Service-owned Modular Airborne Fire Fighting System (MAFFS) in its belly. It was called in to fight the White Draw Fire northeast of Edgemont that ended up burning 9,000 acres. The late afternoon crash that day reportedly was the result of a severe downdraft following a thunderstorm in the area that caused the low-flying aircraft to go down.
Killed were pilot Lt.Col. Paul K. Mikeal, Mooresville, N.C.; pilot Maj. Joseph M. McCormick, Belmont, N.C.; navigator Maj. Ryan S. David, Boone, N.C.; and flight engineer Senior MSgt. Robert S. Cannon, Charlotte, N.C. Sgt. Josh Marlowe, Shelby, N.C., was flown to Rapid City Regional Hospital with unspecified injuries and  Chief  MSgt. Andy Huneycutt was flown to the Jaycee Burn Center Memorial Hospital at Chapel Hill, N.C. Both survived the crash.
In our July 11, 2012, edition of this newspaper we wrote about the need to memorialize the N.C. Air National Guard crew with some kind of roadside sign or monument as near as possible to the crash site which occurred in rugged country nearly three miles to the west of Highway 18. Black Hills National Forest Supervisor Craig Bobzien of Custer picked up on the idea and threw his support behind it. The S.D. Army National Guard also became involved with construction of the site.
Response for donations to fund the approximate cost of $2,500 for materials and signs at the site was outstanding. Amounts sent in to the White Draw Memorial Fund at First Interstate Bank in Custer ranged from $10 to $2,300, the later amount coming from a check written by Hank Whitney of Custer, a retired Air Force officer who put in a lot of hours on C-130 aircraft flying surveillance near the Russian border. A total of $3,880 has been raised thus far, with money left over from materials and signs to be used to help maintain the site.
The pull-out area will have space for six or seven vehicles to park while their occupants read about the White Draw Fire on one sign and the C-130 Air Guard crew on another sign. From this area it is possible to see the location of the plane crash about three miles to the west. Just across the highway from this spot is where a motor home that caught on fire pulled over on the side of the road last year, causing the dry grass on the shoulder to catch fire. The fire ultimately jumped the road and burned 9,000 acres to the west.
We commend those who made the commemorative site happen and thank all those who contributed to the cause. The site illustrates how dangerous fighting wildfires can be and what can happen when things go wrong. It is a tribute, not only to the North Carolina Air Guard crew, but all those who fight our wildfires on the ground and in the air.
We can't thank them enough.